Contract Fire Protection Services for Industry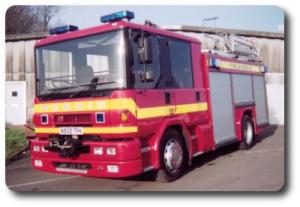 The cost of providing an onsite fire team is prohibitive for many factories and sites due to the high cost of purchasing fire fighting vehicles and equipment, coupled with ongoing maintenance, and the training of staff, to the strict standards required.
Contract Fire Safety arrangements assist in creating and meeting fixed budgets, as this service is provided at a single fixed price.
Bespoke Fire Safety Teams can be provided for factories and large industrial sites. These can be of any size, and can be supplied either on a long-term basis, or by short- term arrangement for specific fire cover, special projects or to supplement existing cover.
We have a fleet of specialised fire fighting vehicles, fully equipped with the latest equipment, available to suit specific risks, sites with low headroom or areas of difficult access or terrain. Our vehicles are available to provide 24-hour cover on your site staffed with appropriate fire fighting crews or for hire with a firefighter driver / operator, crewed and for use by your own fire fighting team.
Please contact us with your specific requirements, and we will be pleased to provide you a quotation.